MEdiacom

PrOFIL...

MEDIACOM identified under the Registration Number (NIF) 000-003-314-1 is a Haitian firm founded in August 1997 and a service provider in the fields of communications and mass media. Mediacom possesses an expertise in social marketing, planning and projects conceptualization in the domain of communication and mass media. Mediacom has particularly developed a solid partnership with 40 community radios, 100 private radios and 30 private television stations across the capital and the provinces.

These various professionals and technicians have a proven experience in the domain of management, training, popular and civic education, broadcasting, communication and journalism.Besides its administrative personnel, Mediacom has at its disposal a distribution network composed of 10 people whose mission is to ensure timely distribution and follow up on the fields. This network is linked with Mediacom headquarter that uses the Internet, telephone, the road and aerial networks to reach the most isolated radios of Haiti. Those distribution points are located in the 10 departments of Haiti.

HUMAN RESOURCES

Ives Marie Chanel, a professional journalist and communicator with over 20 years of experiences, manages Mediacom. He has worked as coordinator of the Newsroom of Radio Soleil (1985-1989). He worked as well during 10 years in the NGO sector as the director of communication and coordinator of the Haitian Association of Voluntary Agencies (HAVA). He was also a consultant for the National TV station, Newsroom director and Program director of Radio Ibo. He sets up Sans Souci FM, his own radio station in October 1998. From June 2002-
August 2005, Iyes Marie Chanel has been the program coordinator for the community radios project, (Ramak Project), executed by Creative Associates for USAID. He's been also for over 10 years a correspondent for Reporters without Borders (RSF), Inter Press Service (IPS) and " Le Système francophone d'informations agricoles" (SYFIA).


Mediacom utilizes the services of the best and dedicated technicians in the domain of journalism, mass media, radio engineering, management, training and evaluation.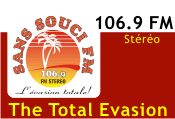 16,rue Malval, Turgeau,
Port-au-Prince, Haiti,

Haiti :
509 2245-9292 / 2245-9393 / 2244-8933
Sto Domingo +1 809-884 3142